Styled X Envy Bag
$30.00
Welcome to our Styled -x- Envy box!
You MUST order by the 7th to receive the same month box. 
Order July 8 - August 7 = Receive AUGUST Box(Ships AUGUST 20)
Order August 8 - September 7 = Receive SEPTEMBER Box(Ships SEPTEMBER 20)
Order September 8 - October 7 = Receive OCTOBER Box(Ships OCTOBER 20)
-Please select the size you wear in a UNISEX FIT TEE! The tees in our Styled X Envy Boxes are exclusive to the box! They will not be able to be ordered anywhere else at any other time!
-The box includes 4 items each month hand picked by the ENVY TEAM!
-You can choose a one time charge or sign up for monthly subscription to come out  on the 1st of each month.
-Boxes ship on the 20th of each month. If you order additional items with your box order, THEY WILL ALSO SHIP ON THE 20TH! 
-BOXES ARE FINAL SALE! 
-Once your order is placed, we cannot change the size, so please triple check you have ordered the correct size! 
-Discount codes CANNOT be used!
-All items ordered with the box, will ship with the box. 
Customer Reviews
09/15/2020
Suzy C.
United States
Love EnvyStylz monthly subscription boxes
I have purchased numerous EnvyStylz subscription boxes, and they are so fun! I live getting a fun monthly surprise! This T-shirt was from a recent box. I love the soft, comfy shirts! The boxes they do prior to holidays are my favorite because I love the holiday tees! I recommend these boxes for anyone!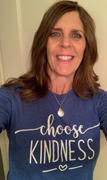 09/15/2020
Danielle
United States
09/14/2020
Kelly B.
United States
09/04/2020
Sandy G.
United States
I love the monthly surprises
If you haven't subscribed yet...you're missing out on a lot of really cute stuff! I love the excitement of opening a box of surprises!!
09/08/2020
Envy Stylz Boutique
09/02/2020
Jennifer o.
United States
Fun surprises every month!
I've been subscribed to the monthly boxes for over a year and a half. You get a cute soft tee & 3 other items: keychains, car freshies, earrings, bracelets, necklace etc. The first year the boxes were awesome great selections & adorable tees each month. Then the last few months haven't been that great they repeat a lot of the items from past boxes. The August box was so awesome that I will continue subscribing for now.
09/08/2020
Envy Stylz Boutique
I love to hear this, Jennifer! Thanks so much!!